Oktoberfest starts this weekend in Dublin
October 4, 2022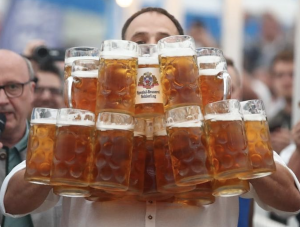 Oktoberfest will  arrive to Dublin this weekend with a number of events taking place in the capital to celebrate.
Here are three Oktoberfest events happening in Dublin this year.
Oktoberfest at The Lighthouse
The Lighthouse in Dun Laoghaire will host its Oktoberfest on Thursday, October 20.
Expect beer, cheese, pretzels and of course, bratwurst. On tap there will be German beers & German wine
The Square Ball
The Square Ball is known for its unique array of events such as pub quizzes, and visitors to the bar will be invited to get into the spirit of things for Oktoberfest every Thursday to Sunday until October 30.
Hosted by Fowl Play BBQ, you can expect German beers and wines , cheese and bratwurst. There will also be Oktoberfest quizzes, Bavarian bingo, blind beer tasting and wing challenges.
Fired Up Pizza
From September 29 until October 30 at Fired Up pizza in Goatstown, there will be a piece of Germany to experience for 20 nights.
The evenings will include traditional German music, food and of course plenty of beer.
For the biggest Oktoberfest Celebration of the year be sure to visit EatYard at the Bernard Shaw. They will have a range of german beverages on tap as well as providing German food and games. Tickets are still available for some dates at their website here